Where horror meets speculative fiction you'll find inventive fears and chilling uncertainty. Here are some of the horror books we're most excited about and/or are currently consuming…
Top New Horror Books in February 2021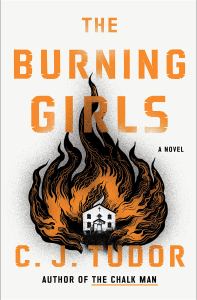 The Burning Girls by C.J. Tudor
Type: Novel
Publisher: Ballantine Books
Release date: Feb. 9
Den of Geek says: A spooky thriller set in a small village promises ghostly visitations and weird happenings that a single mother and her daughter need to investigate. Evil lurking in churches and exorcisms are a horror staple, but the historical grounding here gives it a unique texture.
Publisher's summary: A dark history lingers in Chapel Croft. Five hundred years ago, Protestant martyrs were betrayed—then burned. Thirty years ago, two teenage girls disappeared without a trace. And a few weeks ago, the vicar of the local parish hanged himself in the nave of the church.
Reverend Jack Brooks, a single parent with a fourteen-year-old daughter and a heavy conscience, arrives in the village hoping for a fresh start. Instead, Jack finds a town rife with conspiracies and secrets, and is greeted with a strange welcome package: an exorcism kit and a note that warns, "But there is nothing covered up that will not be revealed and hidden that will not be known."
The more Jack and daughter, Flo, explore the town and get to know its strange denizens, the deeper they are drawn into the age-old rifts, mysteries, and suspicions. And when Flo begins to see specters of girls ablaze, it becomes apparent there are ghosts here that refuse to be laid to rest.
Uncovering the truth can be deadly in a village with a bloody past, where everyone has something to hide and no one trusts an outsider.
Buy The Burning Girls by C.J. Tudor.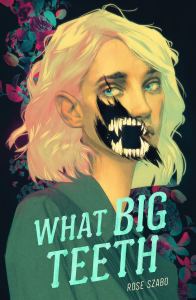 What Big Teeth by Rose Szabo
Type: Novel
Publisher: Farrar, Straus and Giroux
Release date: Feb. 2
Den of Geek says: Fans of the human side of werewolves or the everyday life of the Addams Family may like this story of a student returning home to a strange place after a taste of the outside world. Written for a YA market, but the inventive concept means it has crossover appeal.
Publisher's summary: Eleanor Zarrin has been estranged from her wild family for years. When she flees boarding school after a horrifying incident, she goes to the only place she thinks is safe: the home she left behind. But when she gets there, she struggles to fit in with her monstrous relatives, who prowl the woods around the family estate and read fortunes in the guts of birds.
Eleanor finds herself desperately trying to hold the family together―in order to save them all, Eleanor must learn to embrace her family of monsters and tame the darkness inside her.
Buy What Big Teeth by Rose Szabo.
Never Have I Ever by Isabel Yap
Type: Short story collection
Publisher: Small Beer Press
Release date: Feb. 23
Den of Geek says: At Den of Geek we're always looking for horror that mixes with science fiction and fantasy. Isabel Yap does exactly that. A well-established writer with short stories in genre pillars like Tor.com, Lightspeed, and Strange Horizons, her stories are vivid and unsettling. She's garnered praise from authors including Tamsyn Muir.
Publisher's summary: "Am I dead?" Mebuyen sighs.
She was hoping the girl would not ask.
Spells and stories, urban legends and immigrant tales: the magic in Isabel Yap's debut collection jumps right off the page, from the joy in her new novella, "A Spell for Foolish Hearts" to the terrifying tension of the urban legend "Have You Heard the One About Anamaria Marquez."
Buy Never Have I Ever by Isabel Yap.
Top New Horror Books in January 2021
In the Garden of Spite by Camilla Bruce
Type: Novel
Publisher: Berkley
Release date: Jan. 19
Den of Geek says: This novel for fans of the line where true crime meets horror follows Belle Gunness, a real life serial killer. This looks like a darkly fascinating portrait of a wicked and deadly woman, showing how the "Widow of La Porte" clawed her way through history, leaving victims in her wake.
Publisher's summary: They whisper about her in Chicago. Men come to her with their hopes, their dreams–their fortunes. But no one sees them leave. No one sees them at all after they come to call on the Widow of La Porte.
The good people of Indiana may have their suspicions, but if those fools knew what she'd given up, what was taken from her, how she'd suffered, surely they'd understand. Belle Gunness learned a long time ago that a woman has to make her own way in this world. That's all it is. A bloody means to an end. A glorious enterprise meant to raise her from the bleak, colorless drudgery of her childhood to the life she deserves. After all, vermin always survive.
Buy In the Garden of Spite by Camilla Bruce.
In Darkness, Shadows Breathe by Catherine Cavendish
Type: Novel
Publisher: Flame Tree Press
Release date: Jan. 19
Den of Geek says: Intentionally disorienting fiction can be hit or miss, but in this case it sounds like the non-linear storytelling adds to the intended feeling of a nightmare. Old-fashioned Gothic horror fans with a taste for dark fantasy might enjoy this one.
Publisher's summary: In a luxury apartment and in the walls of a modern hospital, the evil that was done continues to thrive. They are in the hands of an entity that knows no boundaries and crosses dimensions – bending and twisting time itself – and where danger waits in every shadow. The battle is on for their bodies and souls and the line between reality and nightmare is hard to define.
Through it all, the words of Lydia Warren Carmody haunt them. But who was she? And why have Carol and Nessa been chosen?
The answer lies deep in the darkness… 
Buy In Darkness, Shadows Breathe by Catherine Cavendish.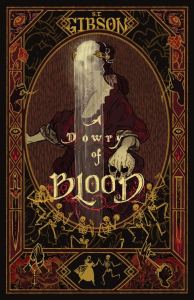 A Dowry of Blood by S.T. Gibson
Type: Novel
Publisher: Nyx Publishing
Release date: Jan. 31
Den of Geek says: Dracula retellings are common, as are takes on the famous vampire's wives. This one sets itself apart by focusing on a relationship between the wives themselves, coloring in the classic story with what the author calls "sapphic yearning at the opera."
Publisher's summary: Saved from the brink of death by a mysterious stranger, Constanta is transformed from a medieval peasant into a bride fit for an undying king. But when Dracula draws a cunning aristocrat and a starving artist into his web of passion and deceit, Constanta realizes that her beloved is capable of terrible things. Finding comfort in the arms of her rival consorts, she begins to unravel their husband's dark secrets.
With the lives of everyone she loves on the line, Constanta will have to choose between her own freedom and her love for her husband. But bonds forged by blood can only be broken by death.
Buy A Dowry of Blood by S.T. Gibson.
Subscribe to Den of Geek magazine for FREE right here!
(function() { var qs,js,q,s,d=document, gi=d.getElementById, ce=d.createElement, gt=d.getElementsByTagName, id="typef_orm", b="https://embed.typeform.com/"; if(!gi.call(d,id)) { js=ce.call(d,"script"); js.id=id; js.src=b+"embed.js"; q=gt.call(d,"script")[0]; q.parentNode.insertBefore(js,q) } })()